Special Offer   –  Joe Pilates' Original 1945 Book of Exercises:
Special for Pilates Studios and Instructor Workshops:
10 Copies for $100 special offer
on the Original Joseph Pilates' Return to Life through Contrology.
Just call our distributor (Atlas Books) and ask for this Special Offer.
Their phone number is 1-800-247-6553.
Just ask for the 10 for $100 Contrology deal, or give them Order code "9780961493790K"
If you want fewer than 10 copies, just call our distributor at the number above and ask for the 50% reduced offer (give them Order code PR50).
OR,
You can buy an individual copy of Return to Life through Contrology at Amazon: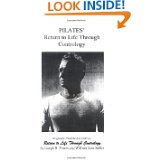 Provides excellent traction, even without a mat
Hygienic alternative to practicing barefoot
Perfect for travel
Machine wash in cold water – Dry flat
One Size Fits Most (Women's shoe 5-10 / Men's shoe 4-9)
ALL GRIP. NO SLIP.Put your entire sole into your yoga practice! Now you don't even need your mat to get into your favorite poses. The targeted traction zones provide no-slip grip on any surface, while the open design allows toes to spread for better tactile feel and balance.Care InformationMachine wash cold with similar colors. Gentle cycle, mild detergent. Do not bleach. Tumble dry low. Do not iron.About GaiamGaiam was created as a lifestyle company with the vision that, given a choice, peop
List Price: $ 9.98
Price: $ 4.99
Related Pilates Equipment Products